Ideally, we goto start and then click to shutdown (or logoff, standby, hibernate) Windows computer. Do you want to schedule and automatically turn off computer without having to click any button on Windows? There are number of utilities that allow scheduling of automatic shutdown, standby and hibernation of PC.
Use Tempo For Windows
It is a very neat and easy to use utility for scheduling shutdown, standby and hibernation on Windows. You can select date – time and action among shutdown, hibernate, turnoff. Just click Schedule button and you are all set for automatic shutdown routine.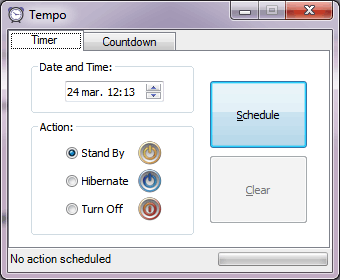 You can click clear button to remove any previous scheduling for PC shutdown, standby and hibernation. Also, click countdown button for teaser countdown before the actual shutdown. Download Tempo for your Windows XP, Vista and 7 computer for automatic scheduling of PC turnoff.
More resources for automatic shutdown
Checkout more resources, tips and tools for automatic and more easy shutdown, turnoff of your Windows PC.
1. Create computer shutdown & restart shortcut in Windows 7
2. Auto shutdown tool for automatic PC shutdown at anytime.
3. Shutdown PC remote with a tweet from your Twitter account.