Few PC users prefer to schedule shutdown, restart of computer to save power and enforce strict PC usage routine. On the contrary, few users prefer the opposite of not turning off or hibernating PC, even when they are not around. Ideally, you can configure computer shutdown, hibernation and other options from power settings in the control panel. You can save some clicks, effort and time using Don't Sleep utility, which can easily disable PC shutdown, turn off or hiberation.
Never let PC shutdown, hibernate & sleep
1. Download Don't Sleep utility [source] and double click to open it.
2. Click to check which options should be blocked among: standby, hibernation, shutdown, monitor turn off.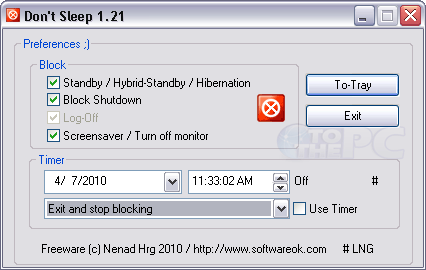 3. You can also configure timer to specify time for which prevent settings are applicable.
For sure one handy way to tame your PC (it even prevents log off from the computer). Grab this tool and never let your PC go to sleep at time when you want it to be awake!