Ideally, a PC can hibernate with monitor display turned off when there is no activity on computer for long time. If you are running a business with lot of PCs, every computer must be restarted at some point of time to refresh and apply software updates. Best time to restart computer is when no one is using it. Doing this manually is very difficult but you can automate this routine using ReBit utility.
Auto computer restart when left inactive
Rebit allows you to configure time, after which computer will be restarted automatically when there is no user activity. You can set different time for each PC with rebit installed on it.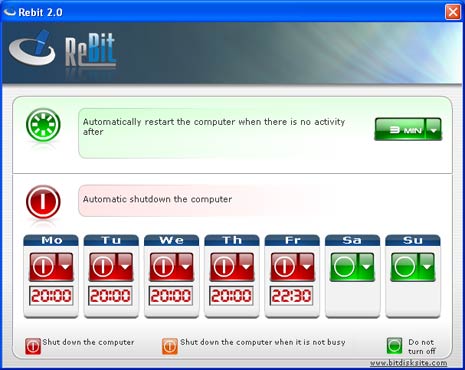 You can also use this utility to configure computer shutdown at specific time at different days of the week. For example: turn off PC after 20:00 on Thursdays and 20:30 on Fridays. Besides saving hassle of manually restarting PC, you can save on power consumption by turn off computer exactly after the set time. Download Rebit