Till now we have seen number of online tools like Future Tweetsthat allow scheduling of Twitter updates. Now you can schedule Twitter updates from the desktop using new feature laden Tweetdeck client. In few simple clicks you can add number of scheduled tweets to be sent at different times of the day within Tweetdeck client.
Schedule tweets from desktop to Twitter timeline
1. Download and install latest version of Tweetdeck software from www.tweetdeck.com
2. Launch Tweetdeck and add your Twitter account.
3. Type Tweet message and click "schedule this update"button. If you are logged in using Tweetdeck account, you can get prompt to create one. It just takes less than a minute to create a Tweetdeck account!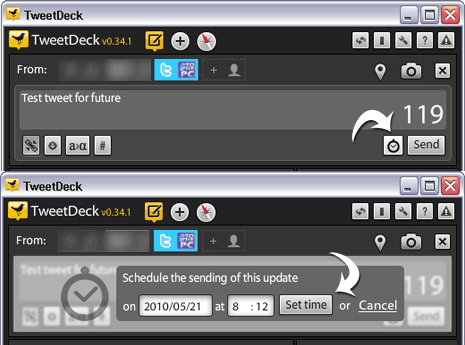 4. Then select time, date when update should be posted and click "Set time" button.
5. Click "Send" button next to set time button to schedule tweet in Tweetdeck.
View all scheduled tweets in Tweetdeck
You can easily view all scheduled tweets in one column display and edit them as per requirement.
1. Click + sign at the top to add new column.
2. Then click "Core" tab option on left.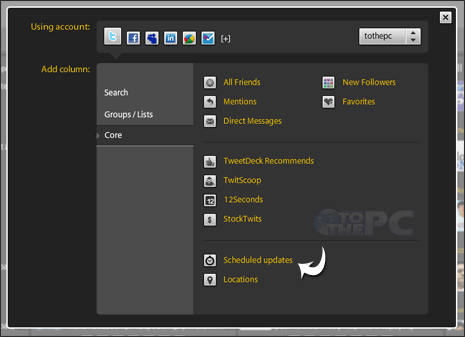 3. Click "Scheduled updates"link at the bottom. A new column will load in Tweetdeck displayed scheduled updates.
Video Demo to scheduled tweets in Tweetdeck
This feature addition makes Tweetdeck the best Twitter desktop client. With existing support for other networks like Facebooks, things cannot get more easy – what say?