Yahoo Image Search has added new filter option that allows you to search Creative Common marked images. For starters, creative common license helps image owners mark their image free for personal or commercial use removing the middle man. You can use this filter to search for images that can be part of your personal and commercial projects.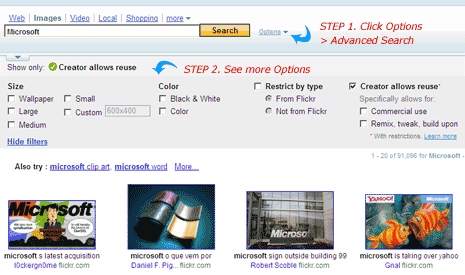 Related – Place Creative Commons badge on Facebook profile
Step 1: Goto Yahoo Image search and type keyword for image search. Then click Options > Advanced Search. On the settings page, scroll down and check for Creative Common License option, enable it and click on Yahoo Search button at the bottom.
Step 2. Click on options icon or show/hide filter link to see more options for your creative commons image search. You can filter image results from non-flickr, flickr, commercial and personal usage license.
This filter option for sure is a very good feature to search for large pool of creative common images in few simple clicks. [via]