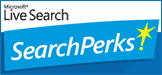 Please ditch Google and start searching with Microsoft LIVE. Well, this mantra doesn't seem to work. So, here comes lure of freebies to make web surfers in US search using LIVE.
If you are legal residents of any of 50 United States and Washington, D.C., atleast 13 years of age and have a valid Windows Live ID – signup for 'SearchPerks' and start collecting your tickets.
TICKETS – WHAT THAT FOR?
Well, each time you search you will be credited with tickets. More you search more tickets you can collect with maximum of 25 tickets per day. Also, you get 500 tickets just for sign up.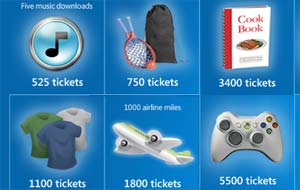 As seen in image, more tickets means bigger goodies you can redeem. This will help Microsoft pump up their LIVE search users (bribe? – Na its called SearchPerks).
What if Google start similar promotion? Google for sure will go bankrupt in trying to redeem tons of tickets. Anyway, checkout SearchPerks for some perks while you search!