Ideally one can goto to system properties, device manager to view hardware information and add & remove programs list to view software on the computer. These in-built Window features provide very little information about hardware and software on your Windows based computer. SIW (System Information for Windows) is a cool portable utility to see details hardware and software system information.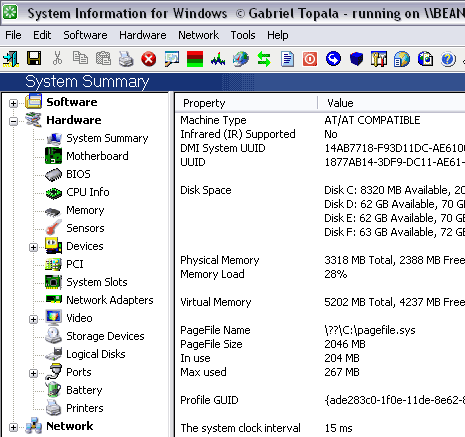 It is a standalone utility and does not require install. So to get started: download System Information for Windows utility and double click to launch it. You can select different software, hardware, network component on left sidebar and see respective details on right sidebar. It can show:
– Software Inventory: Operating System, Installed Software and Hotfixes, Processes, Services, Users, Open Files, System Uptime, Installed Codecs, Software Licenses , Password Recovery.
– Hardware Inventory: Motherboard, Sensors, BIOS, CPU, chipset, PCI/AGP, USB and ISA/PnP Devices, Memory, Video Card, Monitor, Disk Drives, SCSI Devices, S.M.A.R.T., Ports, Printers.
– Network Information: Network Cards, Network Shares, currently active Network Connections, Open Ports.
Network Tools: MAC Address Changer, Neighborhood Scan, Ping, Trace, Statistics
It even works on Windows 7 operating system. Grab this free utility to see system information in details on your Windows 7, XP and Vista computer. A must have utility on your computer or carry in pen drive – take your pick!