Playing around with multiple shape objects just became more easy in Google Docs. Now you can select and format multiple objects at the same time. Hold the shift key and click on objects or drag all over objects that you want to select. After selecting multiple objects you can edit any attribute of selected shape objects in your Google Docs file.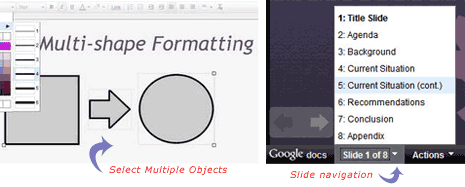 Related – Draw flowcharts & drawings online at Google Docs
You can edit and change fill color, line color, border weight, font size and lot more. It is a very good feature plug when you have multiple objects in same Google Docs presentation slide. Besides this, there is another new feature that allows navigation to specific slides in a presentation with a single click. As pointed by Google Docs blog, you can click "Slide 1 to 5" button at the bottom and jump to any slide in the presentation. Google Docs will little feature bump gets more easy to work with!