Gmail contacts contain names. description and emails IDs of users whom you interact via email messages. With large number of contacts, managing them can be a big task. Besides merging duplicate Gmail contacts, you can sort them by first and last name for easier management.
Sort contacts by first & last name in Gmail
1. Login into your Gmail account and open inbox.
2. Click on 'Contacts' link at top right to view all Gmail contacts.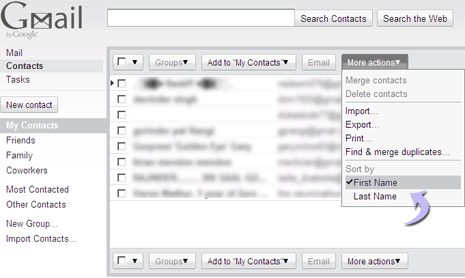 3. Them goto 'More Actions' and click 'first name' to sort contacts by first name. You can click 'last name' option to sort contacts in Gmail by last name.
This sorting feature for contacts by name is very useful when you have lot of contacts in your Gmail account. You can easily hop on to specific contact for further usage.