Contacts listing grow as we send and receive emails in Gmail. It is important to keep contacts organized and tidy for easy navigation to required contact at specific time. We have already seen how to merge duplicate contacts one by one in Gmail contact manager. Now you can automate this task of finding and merging duplicate contacts.
Auto find & merge of duplicate contacts
1. Goto http://www.gmail.com & login into your account.
2. Click "Contacts" on the left side menu in the inbox.
3. Click "Find Duplicate" button, it will show you probable duplicate contacts.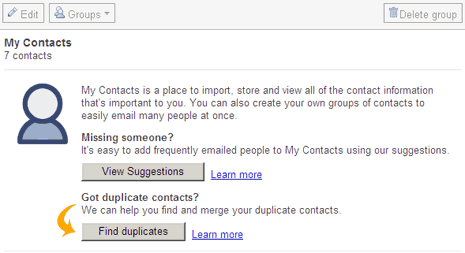 Make sure you review final duplicate contact listing. If you think listed contacts are duplicate, you can easily merge them by clicking "Merge" button. Quick and easy, what say? [via GmailBlog]