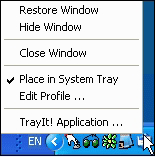 Style means different things for different people. Here style is in Keeping things clean, tidy and arranged properly.
Taskbar at times can be a crowded place with loads of windows minimized and sitting there. You can perform some taskbar cleaning and re-arrangement with cool little utility "Tray it".
It allows you minimize any window in style by placing it in System Tray (System Tray area is located near the Clock) instead of taskbar.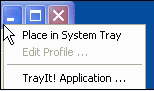 No installation required, just download and unzip the file to get going. Press the CTRL button and minimize any window – instead of it going to taskbar, it goes to system tray.
Each window is indicated by a small icon. Simply right click on the icon of application you want to maximize and click on "Restore Window" option. "Tray it" is simple, easy and very clean – what say?