If you are tired of opening browser page again and again to check ebay auction information – then get a life using eBay auction desktop tracker. Just enter the auction ID and this application will pull related details like: item details, currency, number of bids, prices, seller's reputation, end time. You can add multiple auctions IDs and track them real time on desktop.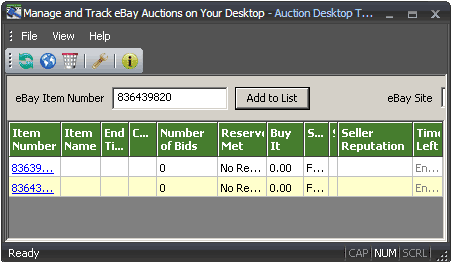 Related – Customize Time Format on ebay pages to Local Time
It works with over 15 different eBay international sites, just select your ebay website from drop down menu. It shows live countdown clock that shows the time left for auctions. You can also customize time to get an alert when an auction is about to end.
It does not require any installation, just download and double click to start using this application. Interface is neat and allows you to customize the refresh time for data being displayed for specific auction ID listing. Download Auction Desktop Tracker [weblink] and track multiple eBay auctions on desktop with ease.