Microsoft is continuously adding features to SkyDrive service to improve its use-ability. Custom URL shortening feature in the form of sdrv.ms for sharing SkyDrive files is latest addition. Microsoft has collaborated with bit.ly shortening service to provide custom sdrv.ms shortening service exclusively for SkyDrive users. It supports all the goodness of bit.ly service including ability to track click statistics by adding + sign at the end of shortened URL.
Generate & use sdrv.ms shortening service in SkyDrive
1. Open SkyDrive website at skydrive.live.com (or sdrv.ms) URL. Then enter your account details to login into your SkyDrive account for accessing files.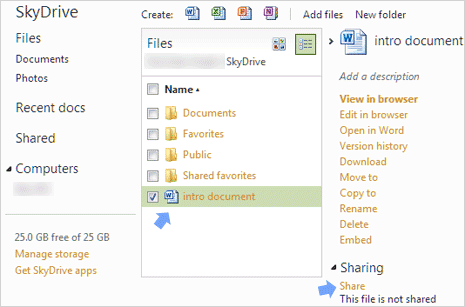 2. Click to select (with tick mark) file that you want to share. Then click on Share button on right side under sharing options.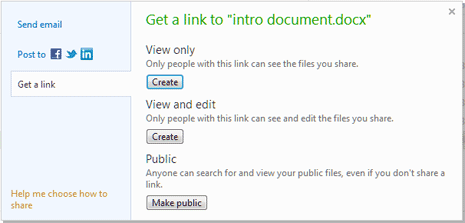 3. In the pop-up window, click on Get a link tab button on the left side. Then click on Create link button to continue. Here you can create file sharing link with view only or view and edit rights.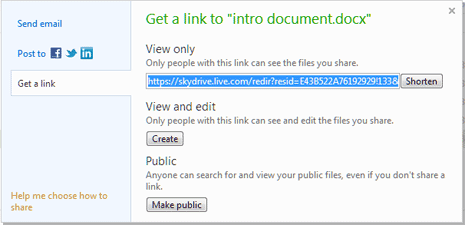 4. You should see original long link (in skydrive.live.com URL format). For easier sharing, click on shorten button next to displayed URL.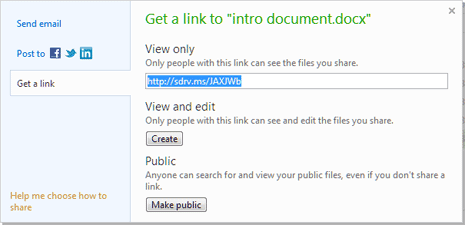 Original link will be automatically shortened in sdrv.ms format, which for sure is more easy to share. Similarly, you can generate sdrv.ms format shortened link for any document or file stored in your SkyDrive account. It is easy to remember shortened file links and makes sharing quicker.
Video: Creating sdrv.ms short links for SkyDrive files
sdrv.ms service also has Facebook open graph support which means while sharing links on Facebook – you should see cool thumbnail preview images along with brief description text.