Ever wanted to know the cost of living comprising of basic prices of different items of daily use in your country? Numbeo makes this all easy with its online editable database of cost of living information of different countries world-over. To get started, select country of your choice and see related information. You can refine search further by selecting any of major cities of the selected country.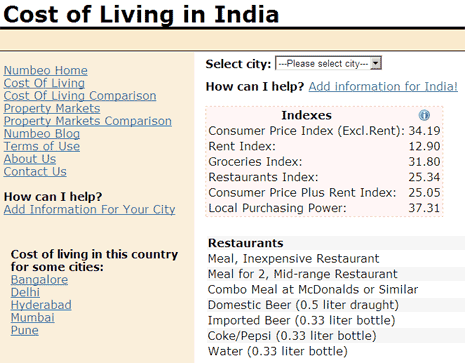 It displays basic indexes like: consumer price index, rent index, groceries index, restaurants index, local purchasing power. You can also find money wise details for transportation, salaries, utilities and basic food items. Besides viewing information, you can submit information for Cost of Living section for any country.
It also has dedicated section for property investment information displaying basic indexes like: house price to income ratio, loan affordability index, gross rental yield. You can select any listed country (and major city) to see more details for rent per month, apartment price, salaries and financing. Explore Numbeo for useful numerical data for informed analyses, neat community resource!