Portable applications do not require any installation and involves no bells and whistles. You can just copy application in a USB drive, double click the app file and start using it. Such applications do not leave traces of your activity on the computer. You can use your favorite software like Firefox, Office in portable format using following website resources.
1. Portable Apps – It is best online resource to download favorite application software in portable format. Just download and carry your software in a USB pen drive. Use them off the USB drive and leave no trace on host computer (& no installation!). [Read more here]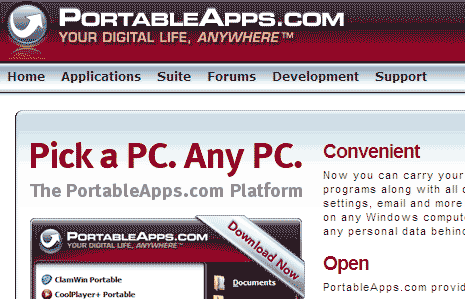 2. PenDrive Apps – It has huge collection of portable applications listing. You can browse among different categories and put any application in your pen drive for quick use.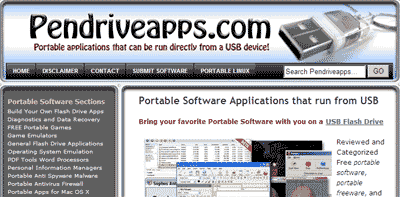 3. Mac OSX portable apps –If you are using Mac, then FreeSmug can provide you quick download of your favorite software application in portable format. Carry your Firefox, Audicity, VLC and many more in USB drive.
4. Portable Freeware – Name says it all, it has huge listing of free portable applications. Homepage list latest additions and you can browse the popular categories using sidebar listing.
5. Freeware List Portable –  Another resource to browse and download application listing of free software which are portable and can be easily run off a USB drive.
6. App Stick –  It is a neatly organized database of portable applications. From messenger to your favorite video player – download and use them in portable format from a USB drive.
MORE PORTABLE APPS RESOURCES
Do you know any other web resource to download and grab favorite application software in portable format? Share with us by adding a comment – lets get portable!