Taking screenshot of window screens of different application programs is a routine for designers, bloggers and programmers. After taking the screenshot, one has to edit screenshots and refine them as per requirement. PicPick portable application is all in one design tool that makes this routine real easy with number of bundled features in one program.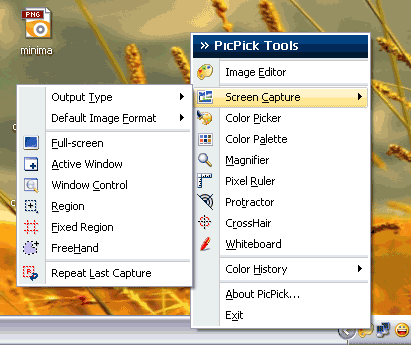 It is available in portable version, just download and start using it. It sits on the system tray and allows you to take screenshot of anything on the computer screen. Besides the full screen and active window capture, you can also select part of screen using freehand tool and save it as screenshot. Other features include:
1. Build-in image editor to add text & effects to screenshots.
2. Integrated Color Picker and Color Palette for easy color selection.
3. Magnifier and Pixel Ruler to keep eye on dimensions and details.
4. Also includes: Protractor, Crosshair and Whiteboard.
It also allow you to send screenshot output directly to any external application like: Microsoft Word, PowerPoint, Excel, Adobe Photoshop, MSPaint. You can even upload the output to your FTP server directly. Download PicPick to take screenshots and edit them in super easy manner on your computer.