Getting content in localized non-english form can help people reach more users. Everyone is trying their bit like Google already has Indic Transliteration service which is also extended to writing emails in Hindi and other Indian languages using Gmail service. Quillpad is another online tool to get comfortable sharing content in Indian languages.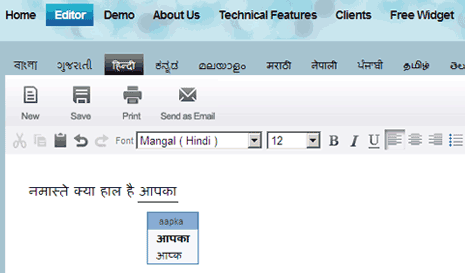 Besides host of other services, it has free online editor to write in Indian languages. It supports number of languages including: Marathi, Hindi, Tamil, Kannada, Telugu, Bengali, Malayalam, Gujarati, Nepali and Punjabi. Unlike Google Transliteration, it provides suggestion words in pop-up menu as you type. This feature is very helpful since most of us are too use to English and find little uncomfortable writing in native languages.
Online editor has basic formatting feature like font size, type, spacing and color. After you are done with typing you can save the output in text or HTML format. It also provide option to quickly print written text or send it via email. Checkout Quillpad Editor, it is zippy with neat interface for easy writing. Worth a bookmark and use if you tend to write and share lot of text in different Indian languages.