Yahoo is going for big bump in design and look of homepage at yahoo.com
New look is radical in tems of design and elements on the homepage.
The official line on new look "… we've begun testing an all-new, more streamlined Yahoo.com that will bring the things that matter most to you – no matter where they "live" on the Web". Is that LIVE bump to Microsoft?
CHECK GMAIL, AOL ON YAHOO HOMEPAGE ?
Now this should be interesting and very useful. An average web surfer use number of email accounts from different providers. Yahoo is giving option to users to check new mail from multiple accounts from single interface.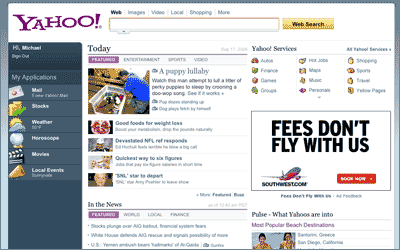 ScreenShots: Homepage Shot – Left Sidebar Multiple Email
You can do all this on the left part of the homepage. Initially Yahoo! Mail, AOL Mail and Gmail are supported. "… We plan to add plenty more preview applications in the future, so that you don't have to spend as much time jumping from site to site just to stay plugged in."
New homepage promise less jumping around even if you use non-Yahoo services like Gmail etc. First impression of the look is nice and sutble – just like many other big portals around. Left slider with access to multiple Yahoo and non-Yahoo services should be interesting!