Email notifier is a handy application to get alerts for new emails without having to open specific web email account in web browser. Now you can receive email alerts while browsing internet within Firefox browser using WebMail Notifier plugin. It checks your web email account and give alerts for unread emails.
WebMail Notifier Firefox addon features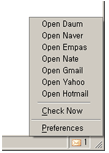 1. It supports Gmail and Google Apps email accounts.
2. Yahoo Mail support for yahoo.com, ymail.com, rocketmail.com
3. Live Mail support for hotmail.com, msn.com, live.com
4. Also supports daum.net(hanmail), naver.com, empas.com, nate.com
Related – Gmail email Notifier, Win & Mac desktop apps
You can configure multiple accounts across different webmail services and receive notification for new / unread emails within Firefox browser. Download WebMail Notifier Firefox addon for new email message notification.