Language translation process has its own plugs and at times is real boring with user having to copy-paste text and then click (few more clicks) for the final translated text webpage. For example: translating text on your Facebook page will involve copying and pasting that text to Google Translate (or use Google Translate Toolkit), then select the output language and click translate button to see final translated text.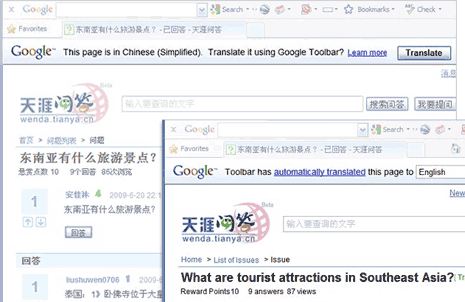 Related – Free language translation desktop tool [One Click]
Feel like doing too many steps for simple translation? Well, Google Toolbar for IE makes translation easy and very quick. With a click of a button on IE toolbar you can translate any webpage, be it a Facebook page or email message in your Gmail inbox.  If you translate Gmail message from Russian to English using Google Toolbar translate feature – next time you receive email in Russian language, toolbar will auto translate that in English without you having to click to start translation process.
Toolbar remembers the output language and smartly does work as per your past user behavior and preferences. As pointed by Google Blog, it allows language translation in less clicks and less time – download Google Toolbar for IE (Firefox version, coming soon!).