Microsoft did lot of homework in launching Google Search competitor in the form of Bing Search. While Bing has not been in much news for it search results relevance, it did catch attention with daily Bing background wallpaper photos. Few users loved the concept of daily wallpapers and even wanted to download whole archive of beautiful photos on Bing Search. While others preferred using Bing search without background photos glitz and gloss.
Video as background on Bing Search homepage
Taking a step further, Bing will soon come will glitzy videos of nature, places, people, animals and so on. It has started video background version of Bing Search for US users. It should be available in other counties in coming weeks.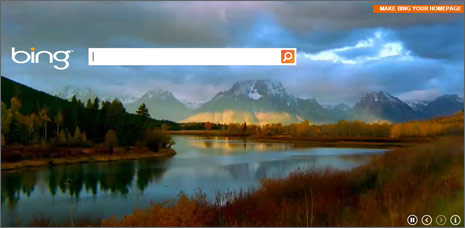 1. Video wallpaper display uses HTML 5 framework. Hence you need to use modern web browser like Internet Explorer 9 or latest Google Chrome to view background video playing on Bing homepage.
2. While US users will see video background by default, other users can view this video background on Bing homepage by changing their country location to United States (English) from top right part of Bing homepage. [via Bing Blog]
Video preview of video background on Bing.com
If you often use Bing Search as default search in your browser then checkout Bing Search tips for quicker and better web search using Bing.