Google Reader went for a design makeover losing curves and colors. New design has lot of spacing and things spread out little more. Incase this spacing is too much for you and want to read more stuff in less space then checkout 'Google Reader Absolutely Compact'.
It reduces empty space among different elements of Google Reader window thereby giving a compact look. It also removes few buttons and links which you would have never used till now – learn Google Reader shortcuts to get hang of things. Here is screenshot from lifehacker of before and after: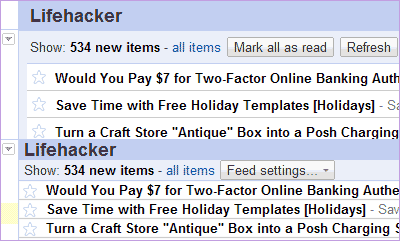 HOW TO INSTALL & IMPLEMENT COMPACT LOOK?
This only works in Firefox browser, so if you dont have Firefox – install it from here. Then you need to install Firefox extension 'Stylish' and finally install Google Reader Absolutely Compact. Greasemonkey and Opera users can also load this style as a user script. Above mentioned installs wont take much time. If you really like the compact interface – go for it!