Do you want to create cool Youtube video featuring own pics / photos with favorite audio soundtrack? uMusic is a dead simple application to achieve this complex looking task in few simple clicks. You can add multiple photo slideshow to a video along with any mp3 music file playing in the video itself. After creation, quick upload video to Youtube or Rapidshare website.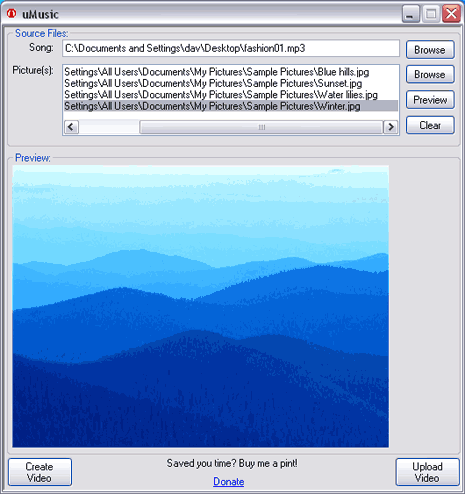 Create Youtube Videos with uMusic
1. Download uMusic free software & install it.
2. Launch the app, goto start > programs > uMusic > uMusic
3. Click browse & select mp3 audio file for the video.
4. Click browse & select multiple photos by dragging mouse.
5. Preview selection and click Create Video button.

Related – How to add different music / audio to Youtube Videos?
It takes some time to create final video from selected mp3 soundtrack and photos. Like for 3 minutes audio track, it can take 10 minutes to encode and create video. You will get prompt once video is encoded or created. You can play the newly created video on the computer or click upload video > Youtube to quickly upload video to Youtube website. One damn simple way to create cool Youtube videos, what say?