Cut and crop of images is a basic routine while editing photos. We have already seen easy to use free picture cropper software to crop and cut photos. If you don't like installing software and want to cut photos online- checkout "Cut My Pic". This online service allows you to cut photos, make round corners, rotate photo, add shadow to final cut image.

Cut & crop images online at 'Cut My Pic'
1. Open Cut My Pic website in the browser.
2. Click Browse button, select image to be uploaded.
3. Then select portion of image you want to retain by moving side of a box.
4. Click to select type of corner among straight, curve or round.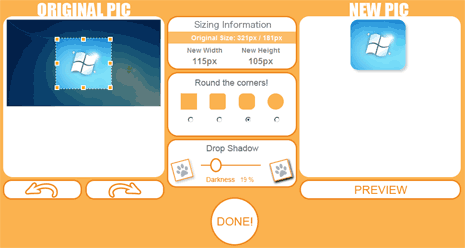 5. Move Drop Shadow slider for thicker shadow effect.
6. Rotate image using arrows below 'Original Pic' section.
7. Click Preview button to see final cut image with effect.
8. Click Done button to download final image or email it.
For sure one handy online tool for easy and refined cropping of images with cool basic effects. Checkout!