Lock Image is a portable open source tool to add password to photos. It convert any image into exe file laden with password protection. After adding password you can share the final EXE file of the image without any security concern. Other user has to enter correct password in order to view sent image.
Lock Image adds password to photos
1. Download Lock Image program (download bin.zp file).
2. Unzip download folder, double click to launch the program.
3. Drag drop any image in the application window.
4. Goto File > Save and then enter any name for the file.
5. After you click "Save" button, "Choose Password"window will popup.
6. Enter Password for the image and its all done.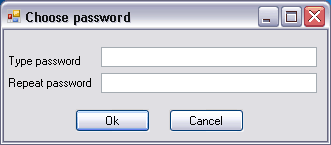 Now other user can double click this protected photo exe file, enter password to see the actual image. Since final image is an exe file, no additional software is required to enter password or view image. Sharing exe files over IM and email can be little problem (as it could be blocked). Alternatively, after creating password protect exe file of photo you can zip it and then share without any issue. For sure one quick and dead simple way to protect images, what say?