USB devices like pen drives are very quick way to copy and transfer data. They also pose big threat of infecting computer with malicious stuff. You can disable USB ports on Windows PC and prevent other users, friends from transferring data (to and from) your PC. This will keep computer safe from any infection as a results of USB device usage on the PC.
1. Free tools to block USB port drives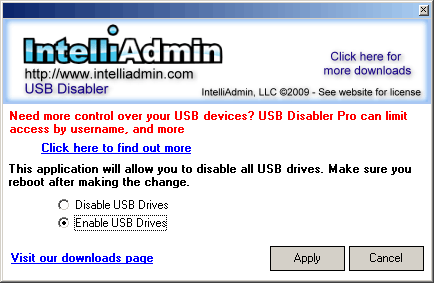 Intelliadmin USB Drive Disabler [free basic version] is a portable tool to disable / enable USB on your Windows PC. After the download, double click to launch the program. Select 'disable USB drives' and click 'apply' button for settings to take effect (PC restart is recommended).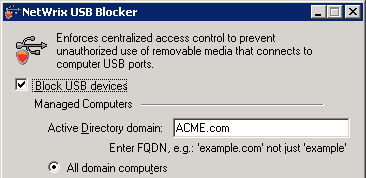 Netwrix USB Blocker is a handy tool to disable and block USB ports on Windows PC. Free version of the program is good enough to block USB ports on your personal computer. It also has paid premium version with more features and support. [You need to fill a form to get download link for free version of this program!]
AdminDeviceLan is another free application that allows you to block access to drives on computers connected to a network. It allows you to disable CD, DVD, Floppy, Flash drive access.
2. Registry Method to disable USB drive access
Following registry changes will prevent users from successful connection of USB drive to USB ports on Windows PC. Be careful, do not try this if you don't know about registry settings.
– Click Start > Run. Type regedit, and click OK.
– Locate & then click the following registry key:
– HKEY_LOCAL_MACHINE\SYSTEM\CurrentControlSet\Services\UsbStor
– In the details pane, double-click Start.
– In the Value data box, type 4, click Hexadecimal (if it is not already selected), and then click OK.
– Exit Registry Editor.
To enable the access again, follow same steps as above and change value to 3 from 4. More details in Microsoft article.
3. Disable USB from Device Manager
– Click Start > Run. Type devmgmt.msc and click OK.
– In device manager, browse to USB device (multiple) listing at bottom.
– Right click one each listing and then click disable option. Use enable option to revert back changes to disable USB.
4. Change BIOS settings to disable USB
Reboot / restart PC and press F2 or DEL key before Windows splash screen. You will see blue colored BIOS screen. Goto Advanced and look for USB settings. Select disable and exit BIOS saving changes. [Options may be different on PCs with different BIOS types].
Majority of USB disabling methods are temporary and can be bypassed by user with geeky skills. Do you know any other method to disable USB ports? […. besides physically covering USB ports with a tape or some other object, just incase!]