By default, when you delete any file or folder on Windows computer – it is sent to Recycle Bin (unless you are using Shift + DEL keys shortcut). Do you want to directly delete files and folders without need to send them to recycle bin? You can easily configure such setting for direct deletion of files and folders.
Direct File deletion & bypass recycle bin
1. Right click on Recycle Bin icon & click 'Properties'.
2. Under 'Global' tab, click to check option "Do not move files to the Recycle Bin. Remove files immediately when deleted"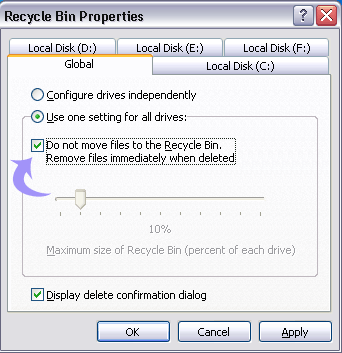 3. Click Apply, OK. From now on, files and folders will be deleted directly without being sent to recycle bin.