Previously known as Morro, Microsoft Security Essentials software has created lot of buzz before the actual release. Well, it is now available for free download and use. It aims to protect your computer from viruses, spyware and other malicious online threats at wonder price of $0. Besides offering free protection, it can receive automatic updates in background without you having to mess around with update pop-up windows.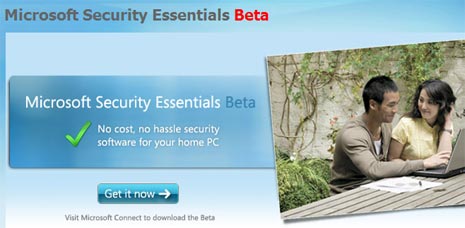 Related – 5 Free Anti Virus Software to Protect your PC
Here is the official pitch "… You're too busy to spend a lot of time worrying about protecting your PC. With Microsoft Security Essentials Beta, you get high-quality protection against viruses and spyware, including Trojans, worms and other malicious software. And best of all, there are no costs or annoying subscriptions to keep track of."
It is compatible to work on Windows XP (Sp2, sp3), Vista, seven and requires 160MB of hard drive space. Download Microsoft Security Essentials software, you need to login using Live ID and answer some questions before the actual download link (thats Microsoft for you!). Test drive this free security product from Microsoft, does this make you and your system feel safe?
Currently, this beta release is available only to customers in the United States, Israel (English only), People's Republic of China (Simplified Chinese only) and Brazil (Brazilian Portuguese only).