Every computer with different version of Windows and Microsoft Office software has different set of fonts to work around. Also, users can install fonts on Windows for more customization. When a Word document is opened on a different computer, it may appear different if fonts used in the document are not installed on the computer. You can make a Word document appear exactly same on different computers irrespective of fonts installed on computers by using embed fonts feature.
Embed fonts in Word to preserve document fidelity
1. Create new document or open existing Word file in Microsoft Office program.
2. Once you are done with editing of Word document, goto File > Options.
3. In the 'Options' dialog box click 'save' tab on left sidebar.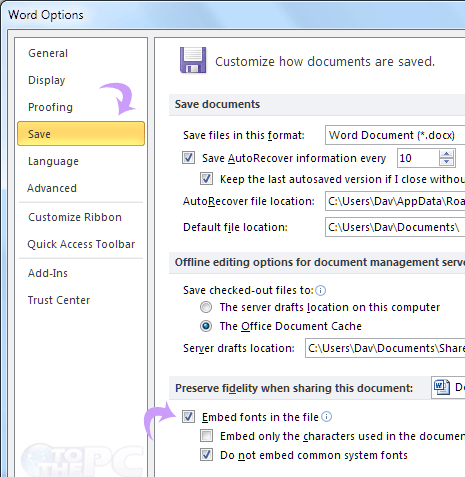 4. Look for "Preserve fidelity when sharing this document" at the bottom. Then click to check 'embed fonts in the file' option.
5. You can further customize this setting to keep word document file size minimum. Click to check 'embed only the characters used in the document'. Only existing characters will appear in specific font formatting. Any new characters / words added will not appear in same formatting. 
If you do not use above advaced setting, then even edited text should appear in original Word document formatting. Embed font feature works with open type and true type fonts.