Google Chrome has in built support for viewing PDF files through Chrome PDF viewer plugin. By default, this plugin is disabled as it may cause conflict with exisiting software installed on your PC for viewing PDF files. If you do not use any other software program for PDF files, then you can enable this plugin for easy preview of PDF files within Chrome browser.
Turn ON & enable Chrome PDF viewer plugin
1. Launch Google Chrome browser. Make sure you are using latest Chrome (6.0 or above), else download from google.com/chrome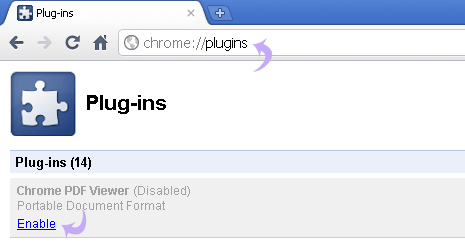 2. Type chrome://plugins/ in the address bar and hit the Enter key.
3. Click enable next to Chrome PDF viewer.