Are you tired of hopping to web browser again and again to check for new updates on Facebook account? Well, make things easy and quick by receiving Facebook updates instant notification on desktop using fbquick. It is a free Facebook desktop notifier tool to stay updated with Facebook status without the web browser hopping.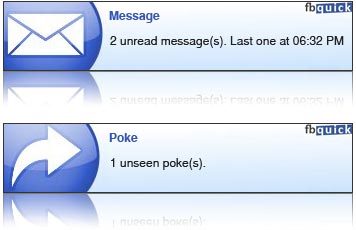 See Desktop Notifiers for: Orkut friends – Meebo IM network – Friendfeed
You can receive instant notifications for new messages, wall posts, tagged photos, event invite, friend request and lots more. After the install, login into Facebook account using this application. You can configure uptate interval times and time (in seconds) for which notification pop-up should appear on the screen.
You can also configure which item updates among messages, walls, pokes etc should be checked and notified on your desktop. Download FBquick notifier to stay updated with Facebook account status al the time with ease. It works fine on Windows based computer.