If you are an Orkut addict, then staying in sync with new scraps from Orkut friends is very important. No need getting tired of refreshing Orkut webpage for checking latest scraps, following are two ways to be in touch with latest Orkut scrap notifications:
1. Orkut Scrap Notifier – This utility sits on the system tray and gives a pop-up as soon as you receive a new Orkut scrap. Open this application, login into Orkut account through usual login page. Minimize the window and you are set to receive new scrap notification on desktop. You can also configure time for checking new scraps. It requires Microsoft . NET framework.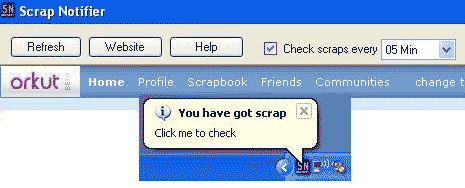 Related – Orkut SMS for Scrap Notification on Mobile
2. Use Google talk for notification –If you use same Google account login for Gmail, Orkut and Google talk, then you can easily setup notification system without installing any utility. Login to Orkut, goto to settings > Notification. Configure Gmail ID for notification and login into Gtalk using that ID. A new scrap info will be sent as an email message which will be notified by Google Talk on the desktop.
Do you know any other way to stay connected with new Orkut scraps? Share with us for quick N easy scrapping!