We have already seen ways to use Google search for PDF files, music & video files. Google Image search has added new feature to search for Clipart and line drawing images. Open Google Images search and type any keyword. Then select Clipart or line drawings option from dropdown box.
This will filter results and will only show clipart or drawings for related search keyword. This is very handy feature to search specific type of images. Google previously added 'face' only image option that only shows face images.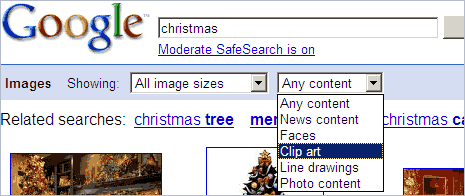 There are more image search filtering options, just click 'Advanced Image Search' link next to 'search the web' button for advance options. This includes filtering of results by size, color and file types. Google Images search now got lot of options to search for images. You can also try Soople that makes advance Google search real easy.