Do you want to easily generate barcodes in Microsoft Office Word and Excel programs? By default there is no functionality in MS Word / Excel to create barcodes. However, barcode addon for MS Word / Excel makes this an easy routine. After installing plugin, you can generate barcode from data contained in Microsoft Word or Excel documents.
Barcode addon for MS Word & Excel
1. Download Barcode addon & install it for MS Word / Excel on your computer.
2. After installation, Barcode Toolbar will be visible on Add-Ins tab.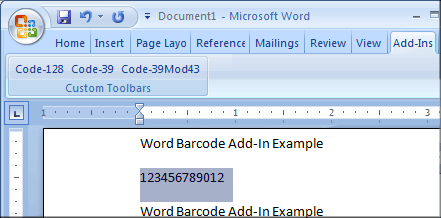 3. Select and highlight data that should be converted into barcode.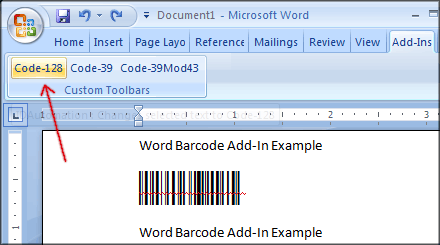 4. After selection, click button of the desired barcode type to generate barcode.
You can also distrbute Word files with embedded barcodes without need to install font package on other system. However, a developer License to the associated font is required. This addon is free and is compatible with Microsoft Word and Excel 2003, 2007 and 2010.