"… Everyday, millions of web users perform about a billion searches using Google. We thought why not provide the same power of Google Search but at the same time, get people to read God's word?"
This is the foundation of online search 'GodlySearch' powered by Google search. Each time you load the search page, you will see a different verse from the Bible on the homepage.
"… You can read that verse or explore the whole chapter or the whole Bible. If you are short on time, proceed with your regular Google search. Even if you find time to read and explore the Bible just 10% of the time, it is 10% more than before."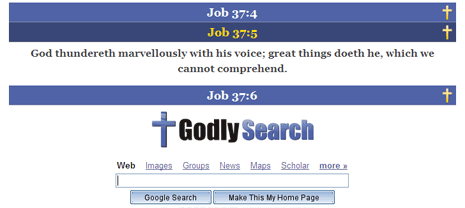 We spend lot of time online and good amount of time on Google. In case online addiction leaves no time to get close to god, Godly Search is one easy way to stay close to God while you dig information using Google Search. Interesting?
Related – 3 Faith or Religion based Social Networking Websites