Firefox 4 beta introduces lot of new features like  tabs placement, single access Firefox button, new look menu bar and lots more. 'Panorama' is a new feature button in Firefox 4 that helps in organized web browsing. It allows you to organize tabs and group them as per requirement. This feature is very handy when you have lot of active tabs opened in Firefox browser.
Use Panaroma button to group tabs in Firefox
1. Open Firefox 4 or above. You can download latest firefox from: firefox.com/beta

2. Click 'Panaroma' button located at top right of Firefox browser. It will show thumbnails of all opened tabs in a neat manner.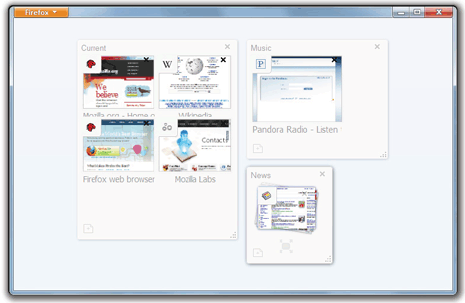 3. You can organize current tabs in different groups. To create new group, click and drag empty space. Then drag tab thumbnails into new group as per requirement.
4. Click to zoom and see full view of any tab. It will only show tabs in selected groups.
Video demo: Use Panorama to organize tabs
Keyboard shortcuts to use Panorama feature
Use Ctrl + Spacebar keys get into or out of Panorama display of current tabs. Use option+space on Mac OS for the same. Organizing tabs in Firefox made easy, what say?