Adobe Flash, Javascript, Microsoft Silverlight, Java are few technology platforms that provide support for dynamic content on the internet. Sometimes, these can cause issue and user may want to disable it temporarily. If you use Firefox as default browser, then you can easily disable or enable them quick in a single click.
Use 'Quick Java' Firefox plugin
QuickJava is a neat Firefox plugin for quick control over Adobe Flash, Javascript, Microsoft Silverlight, Java functionality. It allows you to enable or disable either of technology platform from quick access button on the status bar or at the top menu bar.
1. To get started, open Firefox browser and then download Quick Java plugin. After installation, restart your Firefox browser.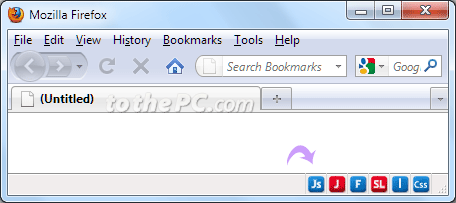 2. You will notice new buttons at bottom right part of the status bar. Jss, J, F, SL, I Css are buttons for Javascript, Java, Flash, Silverlight, Images and CSS stylesheet respectively. You can click either button to disable it as it turns red. Click it again to enable as button turns back to blue color.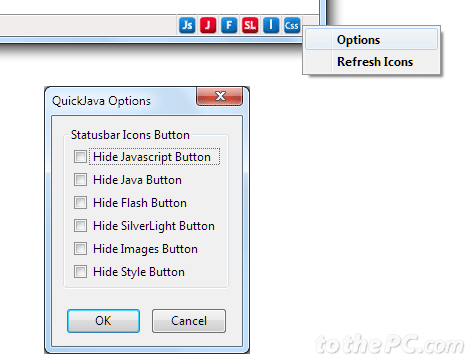 3. You can right click either button to open Options menu. Using that you can hide either of button display on the status bar as per requirement.
4. You can also add these buttons to the menu bar for quicker access. Goto View > Toolbars > Customize to open customize toolbar dialog box.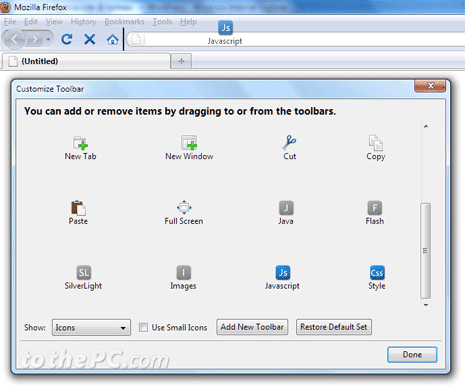 5. Then drag drop required buttons to the top menu bar. You can remove button by dragging back button to customize toolbar box. For sure one quick and easy way to customize settings of Flash, Javascript, Silverlight, CSS in Firefox browser.
Besides the quick autmatic routine to disable Javascript using plugin, you can also disable it manually from Options menu in Firefox browser.