There are basic steps to delete internet and temporary files on the computer. We have also seen number of utilities (here and here) to clean up history mess. Even after so much effort, there could be still some files hidden safely shouting all about 'what you have been browsing?'.
This could be Index.dat files, these are hidden files on your computer that contain all tracks of your online activity. These files contain log of websites you have visited and information about related files and documents. Anyone can access such files and is potential privacy threat.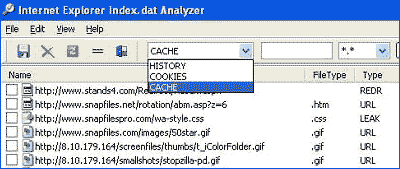 Index.dat Analyzer is a free utility that can easily clean up this hidden mess of browsing internet history track in few simple clicks. You can view: history, cookies and cache using dropdown box at the top menu. It allows you to browse those hidden cache files and delete few or all files. Simple & Neat!