Interned Explorer 8 launched with lot of new features including web slices and accelerators. We have already seen web slices for top websites to access their content with super ease within IE8. LiveSlices makes this process more easy for top social and informational websites.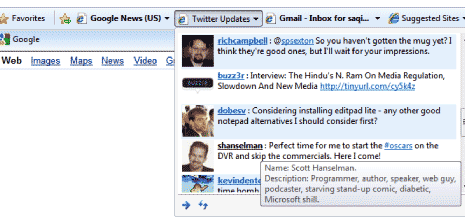 It shows latest updates in the form of drop down box with a click of a button. You can access latest updates for your account on Gmail, Flickr, Twitter and lots more. You can access latest news at click of a button using news slices from CNN, Google News, MSNBC. To get started, you should have Internet Explorer installed on the computer.
After that, goto gallery at LiveSlices and install specific web slice for different web service. And then enjoy the ease and pleasure of accessing latest updates in single click without having to open any new tab. Get more out of your IE8 and simplify things with LiveSlices.