Internet Explorer version 8 (final release) should be available in few hours from now [9:30 PM India time – 4GMT]. We have already seen features of Internet Explorer 8 as it progressed through various RC versions. IE8 is a buzz for Accelerators, Visual Search and Web Slices.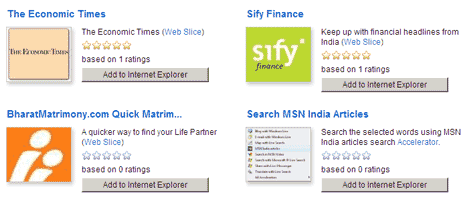 Accelerators speed up everyday online tasks like search, email, social networking, blogging etc. within the active web page by merely highlighting the relevant text. For example with MSN India accelerator installed, select any text to translate, email, find directions and even shop online.
Web Slices appear in the browsers Favorites bar and provide the simplicity of accessing updated information from your most visited websites, without physically going there. Visual Search provides image based search results right from the browsers home page. Top Indian websites have already rolled out their respective accelerators and web slices.
Details – Download IE8 – Webslices & Accelerators – India Specific Addons
Indian Websites include: bharatmatrimony.com, economictimes.com, games2win.com, in.com, indiatimes.com, msnindia.com, naukri.com, rediff.com, sify.com, timesofindia.com, webdunia.com and zapak.com