Google Docs spreadsheet is a part of online Google Docs suite for word processing and office document creation, editing and sharing. Besides doing the productive work, you can also have fun online in Google Docs suite by playing games (courtesy script feature in Google Docs spreadsheet).
Play games online in Google Docs spreadsheet
1. Goto http://docs.google.com & login into your account.
2. Goto Create New > Spreadsheet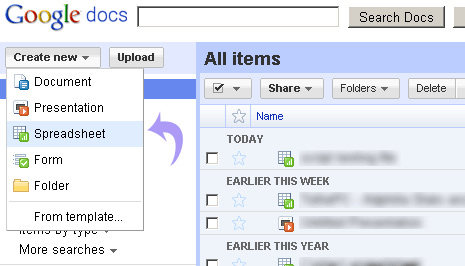 3. In new Spreadsheet window, goto File > Save and enter any name for new spreadsheet file.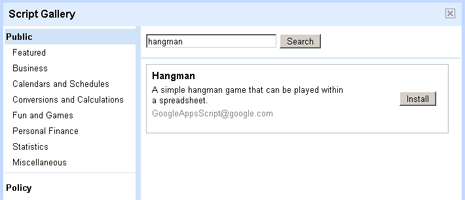 4. Then goto Insert > Script and enter Hangman or Sudoku in search box.

5. Then click Install button and wait for sometime. Alternatively, press F5 key to refresh / reload button.
6. A new tab 'Hangman' or 'Sudoku' will appear. Then goto Hangman > Start new game
Get set for some game play within Google Docs spreadsheet online. Besides fun, you can also add number of meaningful scripts like unit conversions and so on.