Web applications has made even complex of activities very easy to perform and implement. For example, creating a video by recording screen with audio involved software install along with complex configuration settings. Well, not any more – just bump into web application like ScreenJelly. It is quick and no fuss screen recording service.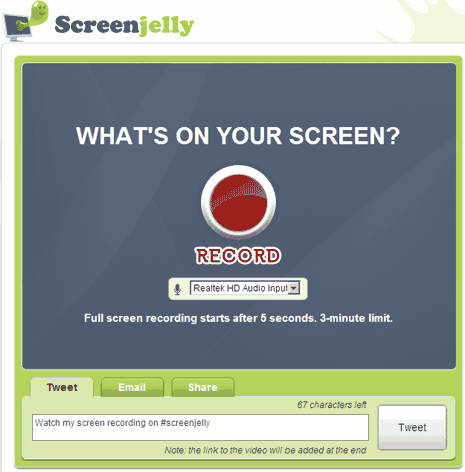 Related – 10 Ways for screen recording [screencasting]
There is nothing to install or register to perform screencasting. It allows you to create quick screencast along with audio and share the video output with friends on Twitter, Facebook or by email. You can only create video upto 3 minutes to explain your thing in least amount of time (who has patience to watch long videos). If you want to create longer screencasts, try ScreenToaster.
Test drive ScreenJelly and produce some screencast real quick to surprise friends on Twitter or Facebook. It is simple, quick and allows you to make neat screencast without any extra baggage of installing or configuring separate software or settings. Record screen in most easy way, what say?