Pod Photo Transfer is a free programs to recover and backup images from iPod, iPhone device to your computer. It allows you to transfer and backup images in high resolution format (upto 720x480px). It works with all generations of iPod Nano, IPod Touch and iPhone.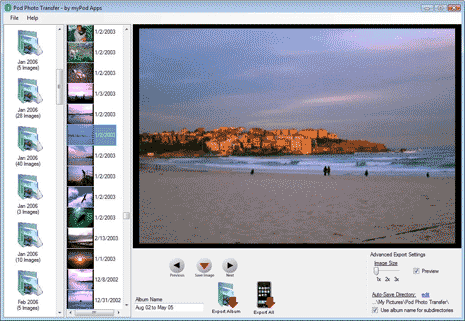 Features of Pod Photo Transfer
1. Copy & transfer images from iPod to PC.
2. Recover images with best / highest resolution.
3. Preview iPod images before saving or transfer to PC.
4. Use Export button for automatic transfer of all images.
5. Export full album directly with export album button.
Download Pod Photo Transfer to easily recover best resolution of iPod images to your PC. It requires latest iTunes software installed on the PC and is all free download & use.