Have you lost your router login password key? Majority of routers create backup in the form of router configuration file. It contains important data like ISP user name/password, login password of the router and wireless network keys. You can easily recover lost router password from this router configuration file using portable tool "Router Pass View".
Extract router login details from config file
1. Download Router Pass View utility. Unzip the downloaded file and then launch the portable tool.
2. Goto File > Open to load your 'router configuration file'. You can also drag and drop the configuration file from Windows Explorer to utility window.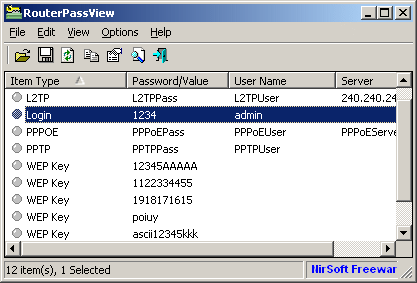 3. It will display the login, WEP key and other information for your router. You can easily view and recover router login username and password.
Supported Router models
Since there are huge number of router models, adding support for each router type is not possible. This router password recovery utility support following router models.
Linksys WRT54GL, and possibly similar models.
Edimax BR6204WG, and possibly similar models.
Siemens ADSL SL2-141, and possibly similar models.
Dynalink RTA1025W, and possibly similar models.
NETGEAR WGT624, and possibly similar models.
ASUS WL-520g, and possibly similar models.
COMTREND 536+ (Only Internet Login)
US Robotics 9108 ADSL (internet login and admin login)
D-Link DSL-2540U/BRU/D ADSL2+
Router Pass View for sure makes task of recovering router login details and WEP keys from router configuration file a dead simple routine.