Right click on empty space on desktop or in a folder and then point to "New" option. Do you see huge list of items listed under 'New" right click explorer menu? ShellMenuNew is very easy to use portable utility to trim down list of items under 'new' explorer menu. You can disable to remove any existing item or enable it back with a click of a button.
Enable, disable items in 'New' explorer menu
1. Download ShellMenuNew utility on the computer.
2. Unzip downloaded file, double click to launch program.
3. It will show list of exiting items in 'New' explorer menu on the PC. Right click on any item to disable (press F7) or enable (press F8) it.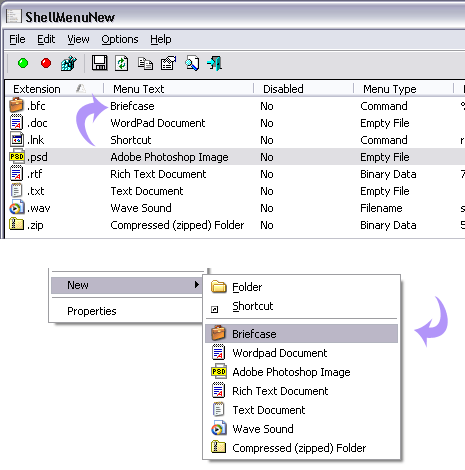 You can view associated registry entry of any item on the list by right clicking the item listing. It also allows you to save existing item listing information as text, html file. It works fine on Windows 7, Vista, XP & so on. For sure one easy way to trim down list of items appearing in 'New' explorer menu, what say?