goo.gl is Google's URL shortening service. You can easily snip and shorten any long url in the form of goo.gl/abcd format. It provides lot of features as compared other URL shortening services like tracking number of clicks, user click location through detailed analytics report. You can also generate QR code image for shortened goo.gl URLs for quickly opening them on mobile phones. With Google name in focus, some people may start using this service to spread phishing and spam URL content.
Report & disable goo.gl spam / phishing URL
If you come across goo.gl url(s) that points to website with spam, malware or phishing content, you can easily inform Google about the same. If the actual spam is detected, Google will disable that shortened goo.gl URL and keep users safe from such online threats.
1. Open spam report webpage for Google URL Shortener.
2. Then enter the goo.gl url that you want to report.
3. Select the type of problem with reported URL among: malware, phishing, spam, not abusive.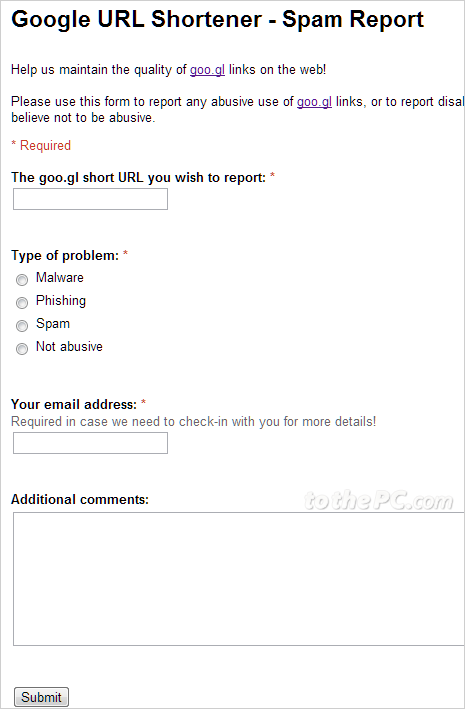 4. Then enter you email address to allow Google to contact you on the follow up.
5. You can also add additional comments about what you know about spammy activities related to reported URL.
6. Then click Submit button to send the goo.gl url spam report.
Google will check on reported URL and will disable / block it – if spam or phishing or malware activity is detected related to the reported URL. This is important feature of goo.gl url shortening service to prevent spread of spam or phishing content through their web service.