If you have installed Internet Explorer 9, you might be looking for the status bar and favorites bar. Newer IE9 has new look with changes in user interface. It has Star icon at top right to quickly access favorites. You can also access other toolbars and settings using home and tools button at extreme right. Incase this looks uncomfortable, you can restore favorites bar and status bar like in older version of Internet Explorer (7,8).
IE9: Restore & display favorites & status bar
1. Open Internet Explorer 9 browser. Make sure you are using Internet Explorer 9. You can confirm on this by checking version of Internet Explorer installed on the computer.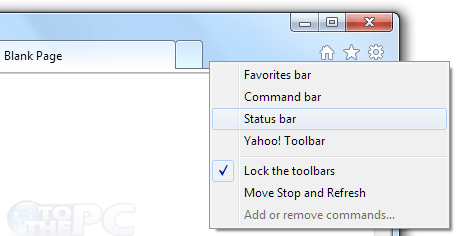 2. Right click on empty space next to 'new tab' button. Then click 'favorites bar' option to display favorites toolbar at the top of IE9. Click 'status bar' option to display status bar at the bottom of IE9 window.
Using same procedure you can show or hide other toolbars and lock toolbars in new interface of Internet Explorer 9 browser.