Do you want to vandalize your favorite website or webpage without too much fuss? Scribblet is a bookmarklet [30 more bookmarklets] that allows you to become instant grafitti artist with webpage being your canvas. Open any webpage, click the bookmarklet and start vandalizing that webpage. Look what happened to Google Homepage.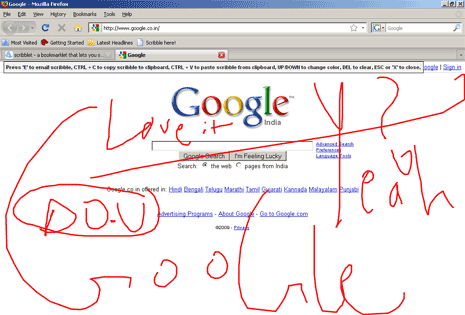 Related – Desktop Graffiti, Vandalize desktop by spraying paint
Firefox, Chome and Opera users can simply drag the bookmarklet to their bookmarks bar and start using it. It can be little tacky in Internet Explorer – to use in IE, right click on bookmarklet link and click add to favorites. Select 'Links' folder from drop down menu and click the add button. Here are some house rules while you scribble:
You can press E key to email your scribbled creation.
Ctrl+C to copy & Ctrl+V to paste creation to clipboard.
Use up/down arrow key to change color of scribbler.
Del, ESC or hit cross sign to close it.
Waste some time making a webpage look more beautiful or horrible as per your preference. A creative time waster, if you wanna bump – grab your Scribblet bookmark and start vandalizing to core!