Are you too old / young to calculate your age figure accurately? Like many of us, sun sign identification is too confusing process? Small portable tool "Age difference" can tell such information for any "Date of Birth" without causing too much strain on thinking brain. Besides age and sun sign, it also provide information about relevant Chinese year for specific date of birth.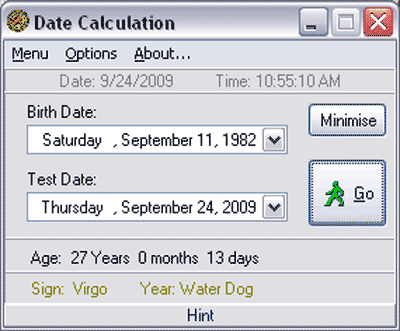 Calculate Age, Sun Sign & Chinese Year
1. Download Age difference tool [weblink]
2. Double click downloaded file to launch the tool.
3. Select your date of birth & click GO button.
4. Age, sun sign & Chinese year info will be displayed at the bottom.
Windows XP users can also make this tool window transparent, goto Options > Set Transparency and then move the slider to change transparency. One small and handy tool, if age calculation is too confusing for you (like me)!