Are you Interested in knowing complete information regarding drivers on your computer? If yes, then here are two options: You can either use utility 'DriverView' or view list by using command line. DriverView is a standalone executable utility. You need to run the executable (driverview.exe) and start using it. The main window of DriverView utility displays the list of all loaded drivers on your system.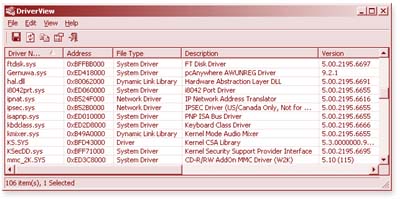 Saving the driver information, You can select one or more drivers from the list, and then copy the details of these drivers to the clipboard, save them to text or HTML file, or watch them as HTML report in your browser. In addition, you can change the order of the columns in the drivers table by dragging them to the desired position, or by using the 'Choose Columns' dialog-box
System Requirement, This utility works under Windows 2000, Windows XP, and Windows NT. Windows 98 and Windows ME are not supported. If you want to run this utility on Windows NT, you should download the 'psapi.dll' and place it in your system32 directory.
DriverView: Website – Download (Windows) – Download (Windows NT)
This is a Freeware utility and best way to check driver information on your computer. However, if you are good with command line stuff, then use following command to view driver information:
Click on start, run. (In Vista type cmd in search box)
Then type cmd and click ok.
Then type command: driverquery/FO list/v 
You will get complete driver information using above command. [via] Another way to know driver information, also keep it handy in case of future drivers install after operating system reinstall, what say?